Low-Cost Professional Web Design in Dublin
Our Web Design Guarantee to you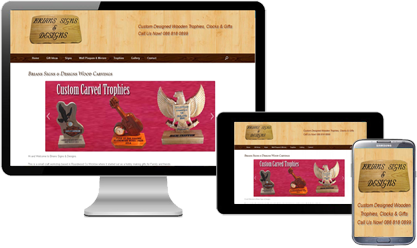 We will design a website that you will be delighted with and have it ready within 10 working days.
Or we will redesign it at no extra cost.
This Website package wont cost you any more than €799 (or €699 plus VAT if you pay in advance) Guaranteed.
No Charge for your First Years Hosting and Email.
No Charge for your Domain Name Registration.
Easily Update Your Site Using a Content Management System
Responsive Design that will Display Beautifully on Tablet and Mobile Phones.
Local Dublin Web Design Company
Professional Web Development at a Low Cost
Now you can have a high-quality, professionally designed website for only €799 + V.A.T.
Special Offer Pay in Advance & Save €100.
Get Your Low Cost Web Design Package for only €699
These sites are professionally designed to the highest standards and most include home page slide shows.
Nuasoft Web Design Dublin are a local 100% Irish Owned web design company with thousands of different Web designs for you to choose from. These designs are customised to give your site a beautiful, professional unique look and feel
We also add photographs either supplied by you or from our stock photo library at no additional cost.
Whats included in this Low Cost Web Design Package?
Our Guarantee you will be delighted with your website.
Up to 15 pages
If you require more pages, you can either add more yourself via the content management system (or we can add them for you at an additional cost)
Content Management System
This will allow you to add pages, and make as many changes as you like
Free Domain Registration & E-Mail
Professional Web Design in Dublin at a Low Price
The main advantage of using our ready made web design system is price. If you were to have your web site professionally designed
from scratch without using our template system, the cost of the design would easily exceed €1500, but by using our pre-designed web sites we are able to reduce this cost significantly.
Unlike most of our competitors, we customise your web design ensuring that your website is as unique as you are.
To get your online presence off to the right start or to upgrade your existing web site to one of our professional web designs please contact us now.
If you feel that ready made web design is not for you please contact us and we can provide you with more information on our Bespoke Web design packages.